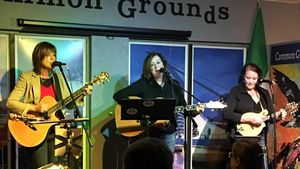 Thanks to all who attended my CD Release party in January. It was a cold night (for Florida), but we filled Vino Loco's patio with a warm, wonderful crowd for a truly magical night! Looking forward to heading back to Vino Loco  in Englewood (FL) for several dates now booked for May and June. 
I also wanted to let you know that, together with Beth Travers & Coleen Marren, the two talented musicians who performed with me at the CD release party, we have formed a fun and "totally jawsome" trio called The SHARK Sisters. You'll see in the upcoming dates on my CALENDAR that I'll be performing primarily with our trio over the next few months as it's, quite simply, more fun!  
For more info about Beth and Coleen, check out www.sharksisters.com -- and be our "chum" on FACEBOOK. 
We hope to see you at an upcoming event!