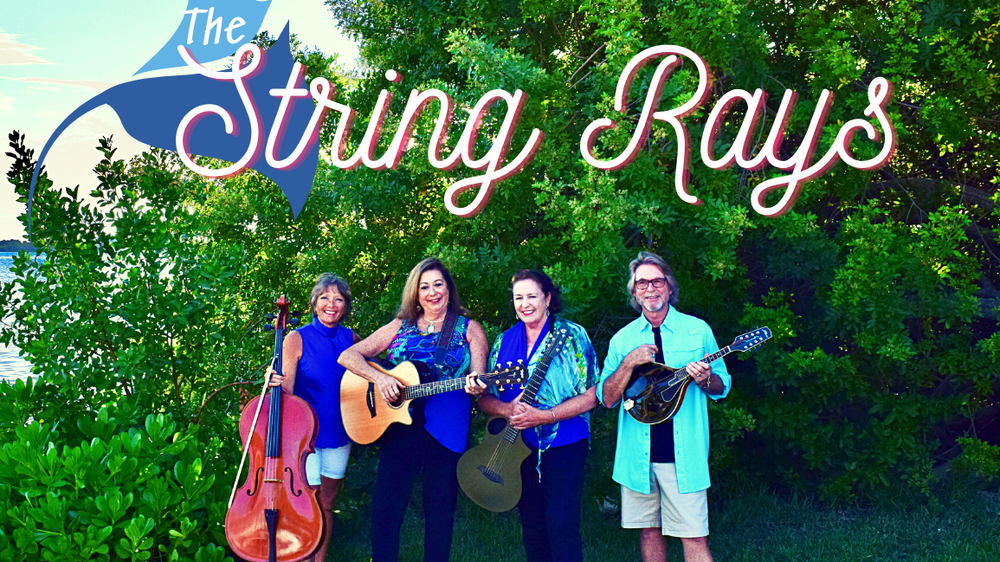 THE STRING RAYS
A Fun-Filled "Acousticana" Band
The String Rays are an entertaining "Acousticana" band creating new acoustic expressions of songs rooted in Americana, bluegrass, folk and blues traditions. With cello, mandolin, guitar, harmonica and rich vocal harmonies, they combine progressive versions of classics with heartfelt and humorous originals to deliver a sound all their own. Showcasing the talents of Brenna Larson, Jeff Cowherd, Renée Wold and Coleen Marren, The String Rays make the old new again, and everyone has fun along the way.
BRENNA LARSON, lead singer and songwriter for the group, engages audiences with warmth and wit, strong vocals, and her fingerpicking guitar skills. A lifelong folksinger and performer, Brenna loves sharing new takes on songs of her favorite artists like Linda Ronstadt, Bonnie Raitt, Alison Krauss, Bob Dylan, Joni Mitchell and many more. Brenna's heartwarming originals celebrate her own personal journey as a career woman, shopaholic and folk diva, along with a healthy dose of true confessions.
JEFF COWHERD's kick-ass mandolin riffs, strong vocals, and quirky sense of humor are at the heart of The String Rays' unique sound. Jeff hails from Kentucky where he made the switch from lead guitar rocker to Newgrass/blues infused mandolin picker 30+ years ago and never looked back. Along the way, he spun his love of mandolins into his own mandolin brand, "JBovier", now headquartered in Englewood, FL.  For more about Jeff's mandolins, visit http://www.mandolins.ecrater.com
RENÉE WOLD is an accomplished cellist who can play anything from classical to rock, while contributing soprano backup harmonies to the group. A woman of multiple talents, Renée performed with community orchestras and ensembles in Northern Minnesota, and worked as a florist, sign language interpreter, and sign shop owner before retiring to Florida for the warmer weather and eclectic musical opportunities.
COLEEN MARREN rounds out the group with vibrant harmonica, guitar and rhythm backup while belting out the blues with her own unique, gutsy style. Originally from New England, she had a distinguished career as a television executive before retiring to pursue her passion for music.
The String Rays typically perform as a quartet, but offer larger or smaller ensembles to suit the needs of specific venues. 
.