In October 2021, Brenna is delighted to announce the launch of The String Rays, a fun-loving, acoustic "new" grass band with a unique sound that combines cello, mandolin, guitar, harmonica and rich vocal harmonies. The new group's heartwarming mix of originals and classic folk-country, Americana, progressive bluegrass and blues favorites will have you laughing, crying, and tapping your toes. From Englewood, Florida, the group showcases the talents of Brenna Larson, Jeff Cowherd, Rene Wold and Coleen Marren.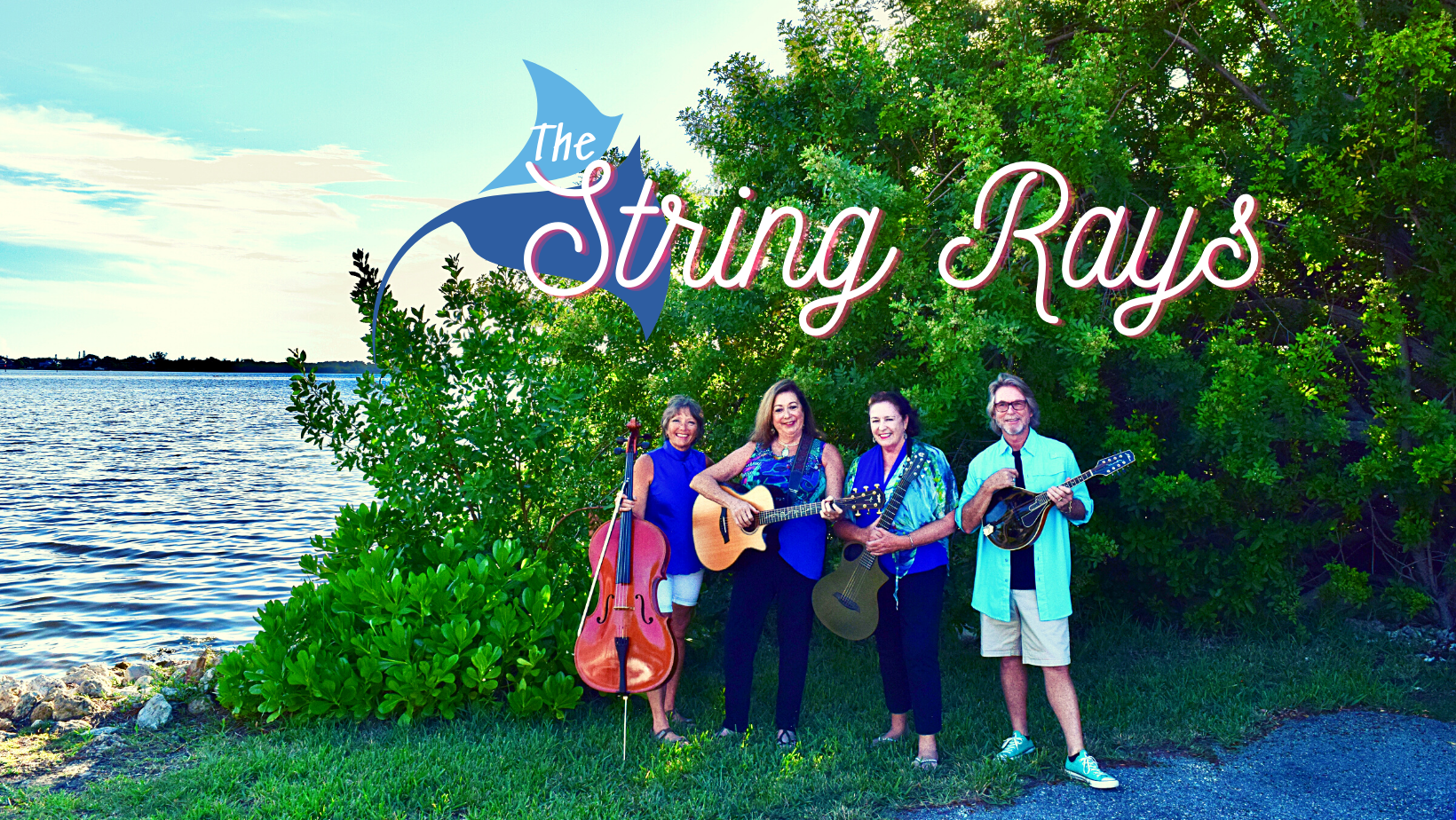 BRENNA LARSON is the lead vocalist, songwriter, and guitarist for The String Rays. As a performer, Brenna combines warmth and wit to engage audiences in her personal journey as a mother, career woman, shop-a-holic, and folk diva. The String Rays performs many of Brenna's original tunes, as well as a wide variety of classic favorites performed with a new twist.
JEFF COWHERD's kick-ass mandolin riffs and rich vocal leads and harmonies add a unique sound to The String Rays. Jeff hails from Kentucky where he made the switch from lead guitar rocker to "new" grass and blues-infused mandolin picker 30+ years ago and never looked back. Along the way, he spun his love of mandolins into his own mandolin brand, "JBovier", now headquartered in Englewood, FL. 
RENEÉ WOLD is an accomplished cellist who can play anything from classical to folk, while contributing tight backup harmonies to The Sting Rays. Originally from Fargo, ND, she studied piano, guitar and cello, later performing with community orchestras and eclectic ensembles in Northern Minnesota.  A woman of multiple talents, she worked as a florist, sign language interpreter, and sign shop owner before retiring  to Florida for sunshine and musical opportunities. 
COLEEN MARREN rounds out the group with vibrant harmonica, guitar and rhythm backup while belting out the blues with her own unique, gutsy style. Originally from New England, she had a distinguished career as a television executive before retiring to pursue her passion for music.
We hope to see you at one of our upcoming gigs -- check our calendar to find one near you. And we encourage you to LIKE and follow The String Rays on FACEBOOK for our latest news.